Circulating tumor cells (CTC) refer to tumor cells that enter the human peripheral blood. Malignant tumors are transferred to other organs of the body through the blood, which is the main cause of death of tumor patients. CTC is the seed cells of metastatic tumors. Through years of hard work, the company has developed a complete set of CTC drug sensitivity testing technology, which can screen the most effective therapeutic drugs for patients within 10 days or 2 months (according to the number of patients' CTC).
Compared with the genetic detection method, the CTC drug sensitivity detection method changes the detection target, and uses metastatic tumor cells as the detection object. The selected drugs are aimed at metastatic tumor cells, which can effectively prevent tumor metastasis. This method has changed the traditional gold standard of treating tumor mass shrinkage, and turned to the prevention of tumor metastasis as the gold standard, grasping the cow's nose for tumor treatment. This method has been proven to increase the cure rate and greatly prolong the life of patients. It is a disruptive breakthrough technology!
Applicable people for quasi-checking:
1. Patients with CTC-positive testing by early check-up before operation;
The most effective therapeutic drugs for this patient can be screened.
2. Those who have been treated with drugs for a period of time after the operation, and the number of CTCs increased after early check-up;
Explain that the early medication is not suitable for this patient, and consider changing the medication.
3. CTC negative after surgery and treated with drugs, but CTC reappears after a period of time;
It indicates that the tumor has recurred or metastasized. Consider screening the most effective drugs for metastatic tumors.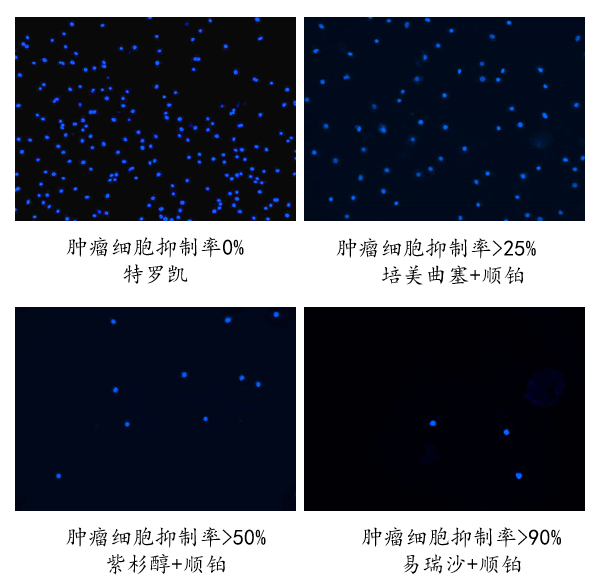 CTC drug sensitivity test results
The quasi-test Kang drug sensitivity test can help patients to select drugs or combination combinations that have a suppression rate of> 90% for their metastatic tumor cells.