On December 7, 2018, Hangzhou Jinxi Biotechnology Co., Ltd. received the ISO13485: 2016 "Medical Device Quality Management System" certification issued by the British NQA certification body, marking our company
The quality management system has been recognized domestically and internationally and is an important milestone in the development of our company. It is a key step in the development of the international market for cutting-edge medical care and proves our quality commitment to the world.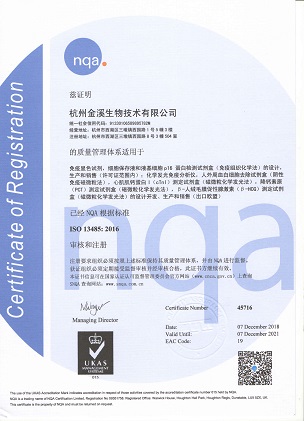 The scope of this certification: the design, production and sale of immunochromogenic reagents, cell preservation solutions and liquid-based cell P16 protein detection kits (immunohistochemistry) (within the scope of the license); chemiluminescence immunoassay analyzer, human peripheral blood Leukocyte removal kit (negative immunomagnetic particle method), cardiac troponin I (cTnl) assay kit (magnetic particle chemiluminescence method), procalcitonin (PCT) assay kit (magnetic particle chemiluminescence method), β -Design, development, production and sale of human chorionic gonadotropin (β-HCG) assay kit (magnetic particle chemiluminescence method) (export to EU).
Obtaining ISO13485: 2016 certification will improve and improve the management level of our company, avoid legal risks and increase the popularity of the company; improve and ensure the quality level of products, so that the company can obtain greater economic benefits; help to eliminate trade barriers , To obtain a pass to enter the international market; help to enhance the competitiveness of products and increase the market share of products; through effective risk management, effectively reduce the risk of product quality accidents or adverse events; improve employee responsibility, enthusiasm and dedication .
Inspired by this honor, Hangzhou Jinxi Biotechnology Co., Ltd. will continue to strengthen medical device production management, strengthen enterprise quality control, provide users with stable quality products, and make greater contributions to China's medical device business.
I would also like to thank every Jinxi person for their efforts and sweat to achieve higher quality goals in the past year!
Knowledge points:
The ISO 13485 international standard, "Medical device-Quality management system-requirements for regulatory", was developed by the ISO / TC210 Technical Committee for Medical Device Quality Management and General Requirements, based on ISO 9001 As a foundation, it is applied to the medical device industry, an independent standard that operates in a regulatory environment. Since its first publication in 1996, the standard has been widely recognized and applied worldwide.
The current implementation version is ISO13485: 2016 "Requirements for Medical Device Quality Management System Used in Regulations". The new version of ISO 13485: 2016 medical device quality management system runs through medical devices such as product project, design and development, sample preparation, registration testing, clinical evaluation, product registration, production, storage, installation or service, use, post-marketing supervision feedback, and disposal Every link in the whole life cycle puts forward higher requirements on the quality management of the medical device industry.